St. Mark's Square is really the heart of Venice, mostly because of its location on the banks of the grand canal, and because of the great number of beautiful, historical monuments located there. Politically and culturally, St. Mark's Square has always been a very important and strategical area in Venice.
On the bank of the grand canal, first you will come upon the "molo",the pier for the great number of gondolas and vaporetti which stop at the square. As you keep walking you'll come onto the piazzetta, the square where you will find the two columns where the two symbols of Venice: St Mark's Lion and the statue of St Theodore, the patron saint of Venice, keep watch over the city. In the past, this square was used for public executions.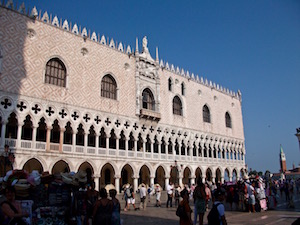 The piazza St. Marco, is the only square that is called a Piazza, the others are simply called "campo". It's much more than a simple city square, it's a symbol.
The square is now "covered" with tourists and its famous pigeons which are a very integral part of the site. The square is lined with the buildings called the Procuratia, which housed the offices and apartments of high placed officials in the Venetian government.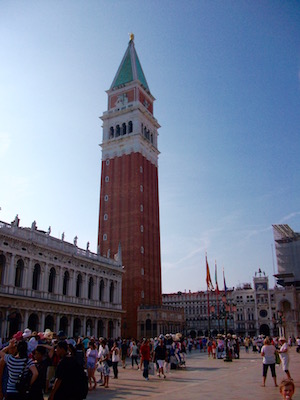 The "procuratie vecchie" date back to the 9th century, and were rebuilt in the 16th century. The Campanile is a 314 ft. tower. You can climb to the top and look out over the city and the lagoon from its panoramic balcony for 10,000 lira. Built in the 9th century, the Campanile was used as a watch tower.
Galileo also used the tower for his work. After the tower collapsed, it was rebuilt in 1902. You reach the Campanile by crossing the loggeta which was built in the 16th century.
The best way to explorer the Historic Center of Venice and Enjoy an entertaining 35-minute Gondola Ride
A Walking Tour around Saint Mark's Square with Gondola: is a Comprehensive overview of Venice Historic Center.