Not far from Venice there are small towns and villages that can be reached and visited in one day. Places like the Riviera del Brenta with its famous Palladian Villas.
Chioggia called the little Venice; the Dolomite always fascinating, not only in winter, not to mention Treviso with its arcades and noble residences.
The city of Padua, a place of worship - it is known as the city of the saint - and the cradle of knowledge with its University founded in 1222.
Not to be missed: The academic botanical garden, the oldest in the world which is always located in the same original place.
The Basilica of S. Antonio (Il Santo) has been a destination for pilgrims for over 800 years.
Prato della Valle: the largest square in Europe.
Stroll among the stalls in the two famous squares: Piazza della Frutta and Piazza della Verdura divided by the Palazzo della Ragione.
Gold in the Glass


Valdobbiadene, Conegliano with, the area of Montello and the Asolo hills, in the province of Treviso is the area where the finest Prosecco grows. Let's know more >>>...
More details
Padua: Unesco heritage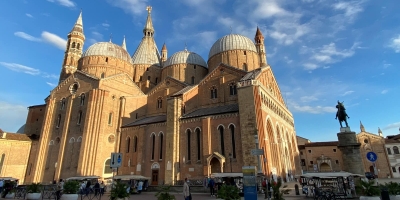 The city of Padua with its UNESCO heritage frescoes. Visit the eight sites, including the Scrovegni Chapel frescoed by Giotto....
More details