The Venetian cuisine is full of typical uniquely created dishes with flavors that will remind you of distant lands. Back in the late 13th Century, the explorer Marco Polo brought back with him from his explorations in the Fast-East all the spices he encountered during his journeys, and still today, centuries later, you will re-find these unique flavors throughout today's Venetian cosine. To taste some of these delicacies, you do not have to go to fancy Restaurants, the places where you can actually find them are in the typical Osterie and Bacari.

Here, you can taste the typical Venetian Cicchetti paired by some good local glasses of wine. And if you do not feel like running around searching for typical Bacari and Osterie by yourself, you can always join one of the Wine and Cicchetti Tasting Tours.
Otherwise, follow the people, the best is to follow the Venetians, mix with them and head out of the city-center of San Marco, and head towards the off-the-beaten paths areas. One of the most famous areas to savor authentic Venetian Chicchetti remains Cannaregio but Castello and Dorsoduro are great choices too.
Drinks ... and if it is not wine, the classic Cocktail in Venice is the Spritz, it can be made with Aperol, for those who love a sweeter taste, or Campari commonly called Bitter Spritz because it is bitter and stronger with a higher percentage of alcohol content.

What are the Venetian Cicchetti? Let's find out: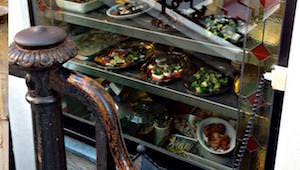 Cicchetti are nothing but small bites and nibbles (appetizers) that usually are paired with a good glass of wine or a Cocktail.
Let's see some typical Venetian Cicchetti that you can taste during the Tour of the Bacari. For fish, we have the local Cod "Mantecato" with Polenta (local grits), fried "Moeche" (local soft-shell crabs) when in season, fried Squid, black Cuttlefish, Bigoli (a type of local handmade pasta) with a special sauce made of Anchovies and sautéed Onions, and then a variety of local Mussels and Clams, and a special shout-out goes to the Granseola (a typical local spider crab). For vegetables, I remind you that some lagoon islands like Sant'Erasmo, are famous for the local farmers and their organic crops; here we can find all kinds of organic local vegetables such as small artichokes, just sprouted, called "Castraure" a true delight; we find the freshest asparagus often paired with eggs and peas risotto, aka "Risi e Bisi", and the unparalleled "Pasta e Fasiol", aka Pasta Fazool, and from the neighboring region of Treviso, we have the local Radicchio.
For the meat, you must try the Venetian Liver, but the Venetian cuisine also offers duck, snout with polenta (grits), and a variety of offal that you can still find in some old Osteria!
The glass of wine is commonly called "Ombra" the literal translation of shadow and its meaning dates back to the time when local Wine Pushcarts placed themselves in St Mark's Square under the Campanile (Bell Tower) with their barrels and moved around following the shade of the tower, this way they could always keep their wine protected by the sun.


Bacari and Osterie in Venice divided by Sestiere (Neighborhood):
CANTINA VECIA CARBONERA: Canneregio 2329. To visit nearby: Palazzo Santa Sofia or Ca 'd'Oro
ANTICA OSTERIA VEDOVA - TRATTORIA C'A GOLD: Strada Nuova, Cannaregio. You cannot miss the famous Vedova Meatballs. To visit nearby: Santa Sofia or Cà d'Oro Palace.
OSTERIA ALLA FRASCA: Cannaregio, #5176. To visit nearby: Fondamente nuove and the Church of The Miracles. Of St. John and Paul
AL TIMON: Fondamenta Ormesini, #2754. To visit nearby: Cannaregio Scuola Grande della Misericordia, or Madonna dell'Orto.
ENOTECA DUE COLONNE: Rio Terà del Cristo, #1814 / C. To visit nearby: Cannaregio, surely the most popular venue in Venice and the Ghetto (The Jewish Neighborhood)
CANTINA DO MORI Rialto Marketplace - Perhaps the oldest Osteria in Venice, a large selection of small sandwiches called "Francobolli" (Stamps). Musetto and Sopressa. To see nearby: The Rialto Market.
OSTERIA ALLA CIURMA: Calle Galeazza, #406A, 30125 San Polo. To visit nearby: Rialto and its market
OSTERIA PONTE DELLA PATATINA: Campo San Polo, #2741. To visit nearby: San Polo and the Church of the Frari
NARANZARIA: San Polo, #130. To visit nearby: Rialto Bridge and the fish market
CANTINA DO SPADE: San Polo, #859. To visit nearby: Rialto Market and Campo San Giacometto
AL MERCÀ: Campo Bella Vienna, #213. To visit nearby: Rialto and Ca 'Pesaro International Gallery of Modern Art
OSTERIA BANCOGIRO: Campo San Giacometto, #122. To visit nearby: Rialto Bridge and Campo San Bartolomeo.
CANTINONE: Fondamenta della Toletta, Dorsoduro. Many typical cicchetti: from the Sardines in Saor to Baccala', sopressa and cheese. Great selection of wines. To visit nearby: Gallerie dell'Accademia.

OSTERIA AL SQUERO: Dorsoduro, 943 / 944, 30123 Venezia, Italia +39 335 600 7513 It's just in front of The famous Squero di San Trovaso!
ALLA BIFORA: Dorsoduro, #2930 Santa Margherita. To visit nearby: Scuola Grande dei Carmini
BACARETO DA LELE: Campo dei Tolentini #183 - To visit nearby: Santa Croce, Tolentini and Campo Santa Margherita and San Rocco.
LA ZUCCA: Santa Croce, #1762, small restaurant offering good dishes; It overlooks a typical Venetian Rio. To visit nearby: Fondaco dei Turchi and the Museum of Natural History.
AL MASCARON: Calle Lunga Santa Maria Formosa, 5225. To visit nearby: Santa Maria Formosa, San Giovanni e Paolo and Arsenale and Via Garibaldi.